Description
See how Crazy Color affects all levels of blonde: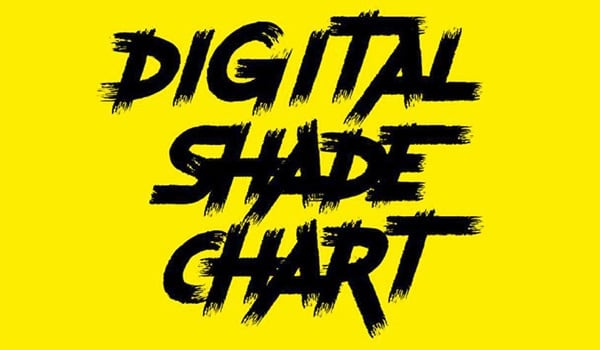 ---
Use without any addition of any other substance. Easy, semi-permanent colour at your fingertips. All colours 100ml. Note: Crazy Color requires the use of gloves when working with the colour formula. Completing a service without gloves will likely lead to skin staining which can be difficult to remove and can last several days. Crazy Color Bleaching Kit for those with untreated hair. Follow the instructions to achieve pre-lightened hair so colour is vibrant and long-lasting.
Tint brushes, applicator bottles, gloves, tint bowls, timers, paddles and accessories for seamless hair colouring services can be found in the Tools & Kits section.
Silicon-Free
Alcohol-Free
Ammonia-Free
Paraben-Free
Sulphate-Free
Contains Sun Protection
Contains Vitamins
Cruelty-free/No Animal Testing
A 100% Vegan and Cruelty-Free formula that has not been tested on animals and is free from any animal ingredient or animal derived ingredients. Works best with pre-bleached platinum to medium blonde hair. Provides instant vibrant colour.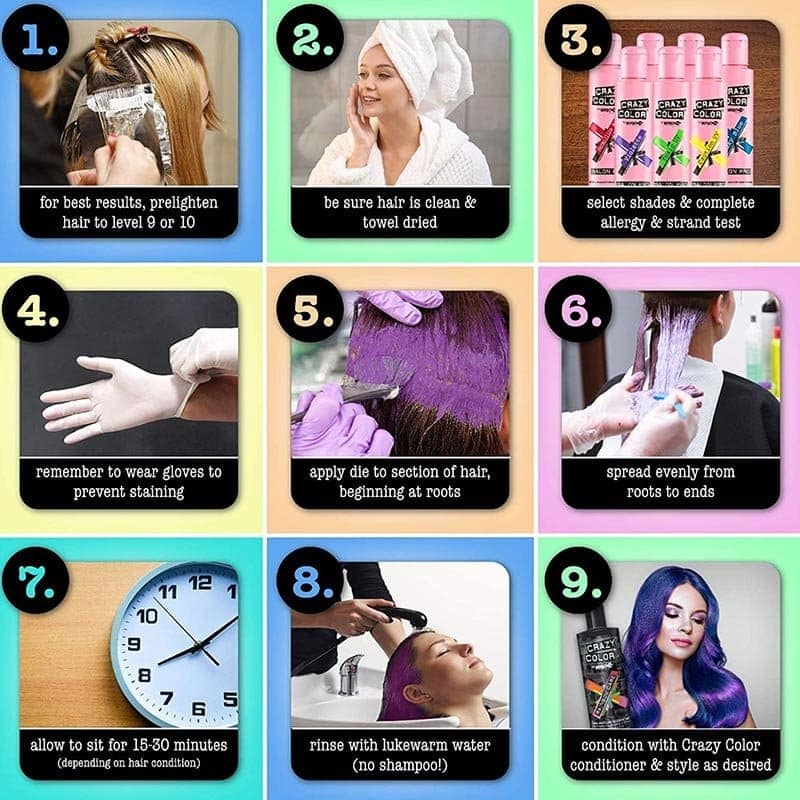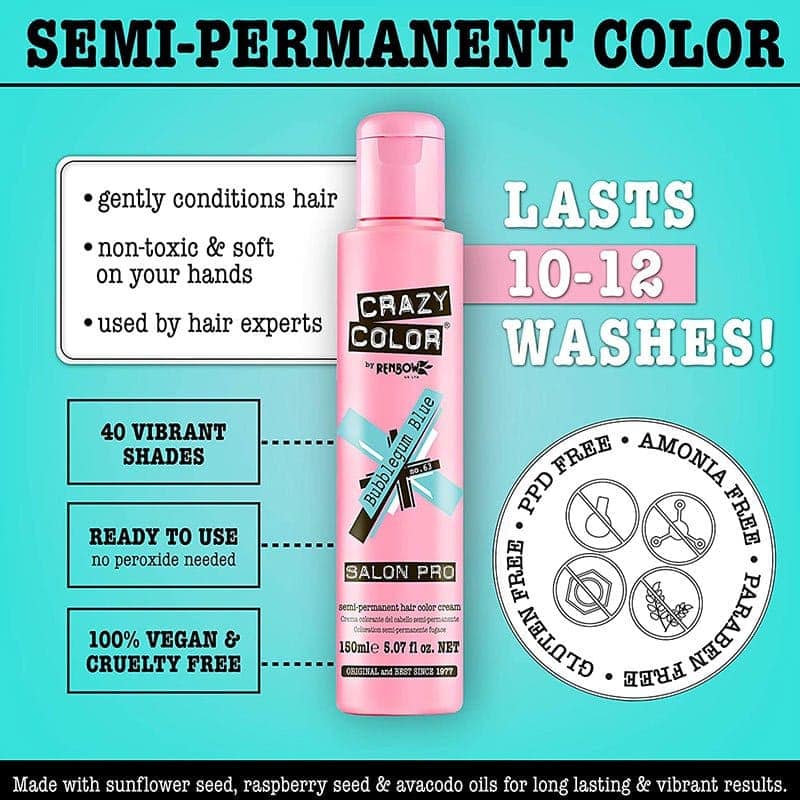 ---
FAQ:
Do I have to complete a strand test before using the colour?
It is advised to complete a strand test when using semi-permanent colour to make sure you are happy with the end result before committing to a completed style. Complete a patch or strand test on pre-lightened hair from platinum to medium blonde. You can choose a hidden section of hair to complete the test. Apply a small amount of dye to the wet hair, let it process for 15 minutes and rinse out for inspection. This can also be done to check for any allergies.
How do I check if I am allergic to the products?
Crazy Color is PPD-free and made with a gently, plant-based formulation which results in very few people experiencing adverse reactions. Completing a patch or strand test will determine if there are any complications or issues.
Do I have to pre-lighten my hair?
Crazy Color works best on hair pre-lightened to a level 9 or 10 so you can experience the full vibrancy and depth of colour for the maximum time frame. To illustrate the difference in tones please see the guide below:

Note: using darker shades of Crazy Color on levels 4-7 hair will give an all-over tone to the hair. These include darker colours such as Vermillion Red, Cyclamen, Peacock Blue, Pine Green, Aubergine, Bordeaux, Burgundy, Hot Purple, Ruby Rouge, Sapphire, Black and Natural Black.
---
Aftercare:
Making Crazy Color last longer
Semi-permanent colour loses intensity after every wash and with environmental exposures. The question is how to maintain maximum vibrancy and depth for the maximum length of time? It is recommended to pair your chosen Crazy Color shade with the Vibrant Shampoo and Rainbow Care Deep Conditioner. There are also a few simply tips that won't cost you anything!
Wash hair with cold water – as cold as you can take! Cold water keeps the hair cuticles closed and stops your colour running out. Warm water is the enemy!
Shampoo as little as possible – semi-permanents will lose colour after each wash so avoid over-washing the hair. Dry shampoo is your new best friend.
No sunbathing – too much direct sunlight and UV exposure will strip all that colour right out.
Avoid swimming – chlorine is another nasty product that will strip the life and colour from your lovely hair.
High Heat Styling – try not to use high heat styling if possible. Use a styling tool with heat control and go down low!
---
Getting Rid of Colour:
We get it. You chose and applied a colour and you have changed your mind and no longer want it or you have had a colouring disaster. There are some steps you can take to get rid of the colour faster than its natural fading cycle.
Removing colour from the hair
It is recommended to use the Crazy Color Back to Base Color Remover, a sachet treatment removes Crazy Color shades and returns your hair back to its pre-lightened state before colour was applied. This colour remover needs to be used with peroxide.
Wash your hair as much as possible with a clarifying shampoo – each wash will begin the colour fading process and the more you do it, the more it will fade. Some recommendations include the OSMO Detoxify Clarifying Shampoo and Malibu C Un-Doo-Goo Shampoo. Avoid shampoos designed for dry, damaged or coloured hair.
Hot water – use to open the hair follicles and is guaranteed to speed up the fading process.
A salon – it is always recommended to visit a professional for advice and a service to remove unwanted colour.
Removing dye stains from skin
If you are left with some unwanted stains on your hands or scalp, there are a few steps you can take to quickly remove them. Be careful not to use these products near sensitive areas such as around the eyes.
It is recommended to use Salon Fuels Dye Remover Wipes to gently remove colour from the skin
Toothpaste – make a small amount into a paste using soap and water and apply to the skin using a cotton bud. Leave of for a few minutes and rinse off.
Alcohol – dab some rubbing alcohol on some cotton wool and rub on the skin.
Bicarbonate of soda – mix an amount with a small amount of water, apply to skin and gently rub.
---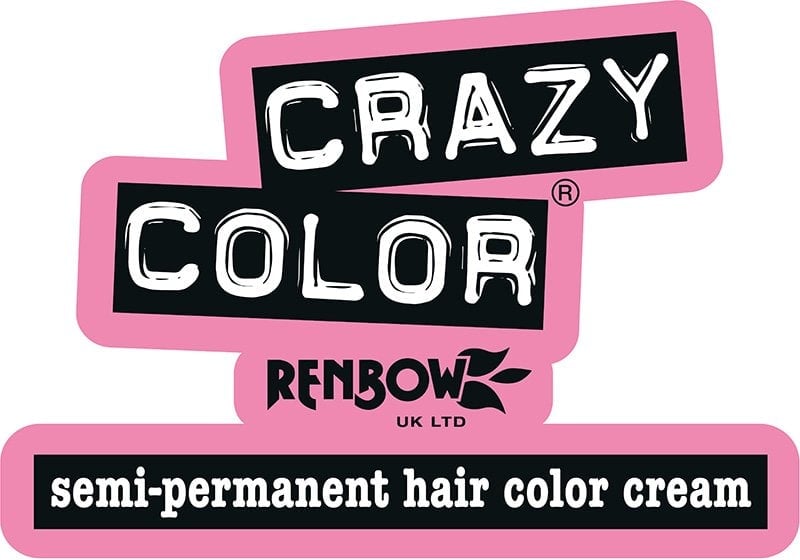 Crazy Color was launched in 1977 in the midst of the punk rock explosion in Britain. In a time that anarchy and free expression ruled supreme, one hairstylist was growing tired of the same natural color palette. Renato Brunas was at the height of his hairdressing career and was set to push the boundaries of color even further when he developed a new range of rainbow shades. Thus Crazy Color was born and over 40 years later their ethos is the same – to express yourself unapologetically.
In every iconic pink bottle is a color that is ready to turn heads. Don't be the trend – make your own. Mix it your way to create a shade to match your style. Crazy Color's range has expanded to 41 colors over the years and each decade gathers new fans. Each new and unique style shows that color has no limit.
SO WHAT ARE YOU WAITING FOR?
IT'S TIME TO LIVE YOUR LIFE IN 

COLOR

.