Biomimetic Hair Science – the breakthrough brand for all hair clients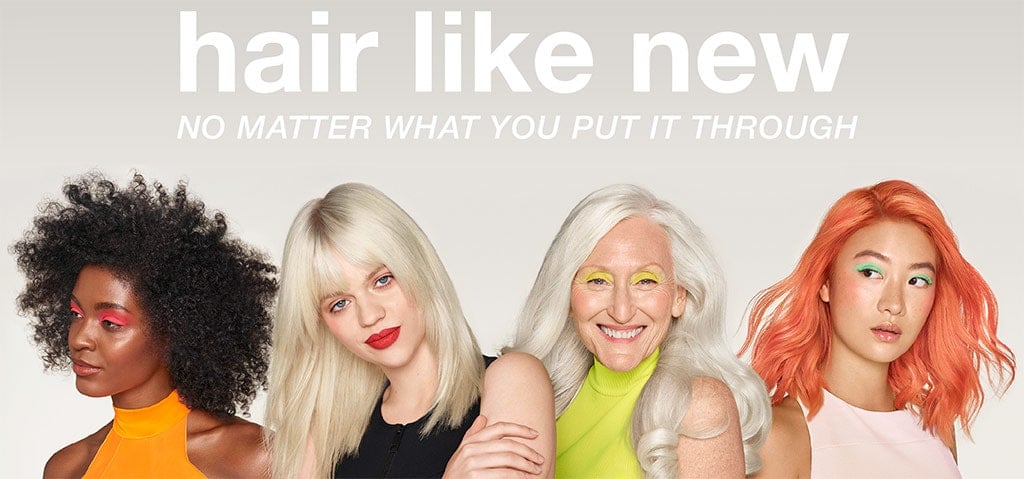 ---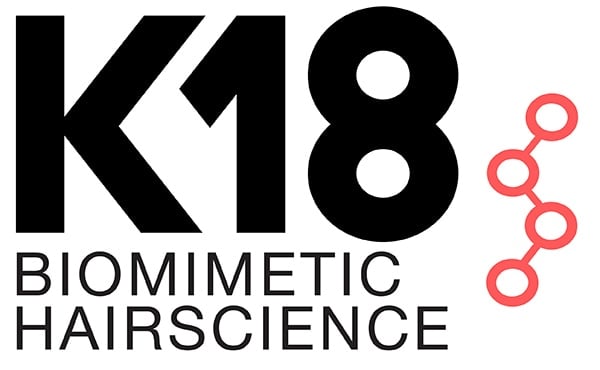 Introducing K18, the hair repair specialists. Treat damaged hair in minutes for hair like new – no matter what you put it through.
K18's award-winning formulations have taken the worldwide hair industry by storm, and it is now available for you and your clients. For all hair types, for all ages, for all generations.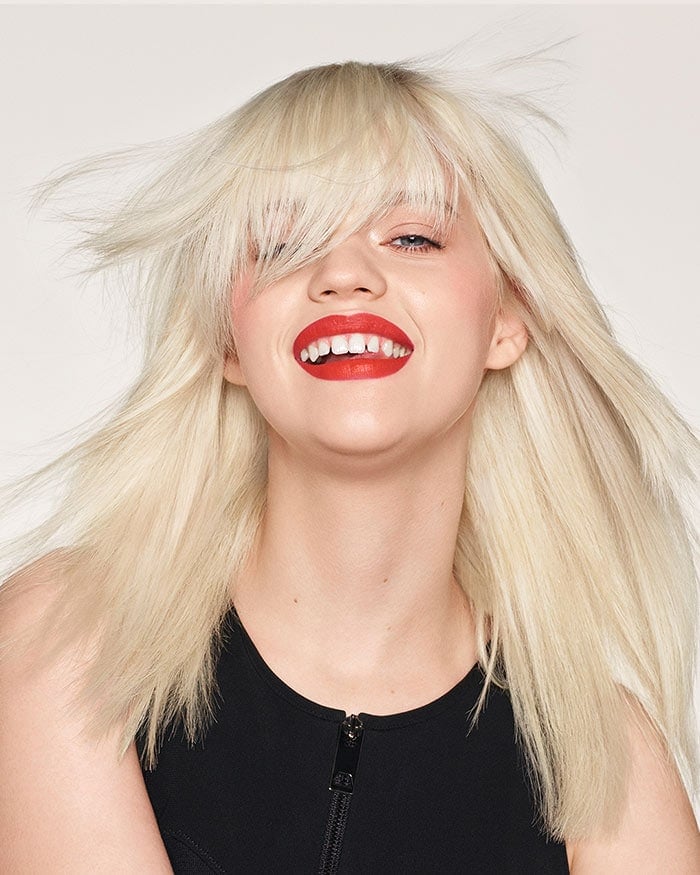 A revolution in biosciences
A decade of research – 1 breakthrough peptide to treat hair damage.
K18Peptide™ was patented after a decade of scanning and testing the 1,242 decapeptides that cover the entire genome of human hair keratin proteins. The K18Peptide™ is the one unique sequence unlocking the science of transforming damaged hair back to its original, healthy state.
This peptide has the ability to completely transform the way hairdressers complete treatments. Gone are the days of clients leaving the salon with damaged or compromised hair. K18 ensures clients leave with perfectly healthy and strong hair.
What is K18Peptide™?
This miracle molecule carries amino acids into the cortex of hair to reconnect keratin chains and re-conform disulfide bonds to bring damaged strands back to their original, youthful state.
Patented K18 is not just a temporary fix — it's the first product to utilize biomimetics to reconnect keratin chains once broken by bleach, colour and chemical services, resulting in soft, smooth, strong hair that feels like new.
The more damaged the hair, the more dramatic the results.
backed by science, loved by stylists
A different approach to damage
Damage is universal, and now lasting repair can be too.
Until now, hair care products covered up damage with conditioning treatments that coat the hair in oils, bringing superficial hydration and sheen. Repair treatments patch damage like internal glue – strong but brittle — but provide temporary results.
K18 is the first product that actually heals your hair from the inside out. K18 is clinically proven to undo hair damage caused by chemical services, thermal styling, mechanical styling, and environmental damage.
Why do we need K18
Hair damage. Everyone experiences damage to their hair in some way either by chemical services, thermal styling, mechanical styling, or even through our environments. Over time, this damage starts to break down the hair, resulting in loss of shine, bounce, and that youthful state we had prior to the damage. The K18 System works to give confidence to salon stylists and clients through extensive use of the revolutionary peptide.
Hair is composed of 3 separate bonds that gives it strength, structure and integrity. Salt and hydrogen bonds are important, but disulfide bonds give hair its foundational support. When disulfide bonds are broken, damage occurs. This damage is present inside hair and all throughout the cuticle, cortex, and medulla. It doesn't matter if the hair is natural, fine, curly, straight, or chemically treated, as damage all happens the same way on a molecular level, which brings us to K18.
with just one treatment, hair is restored to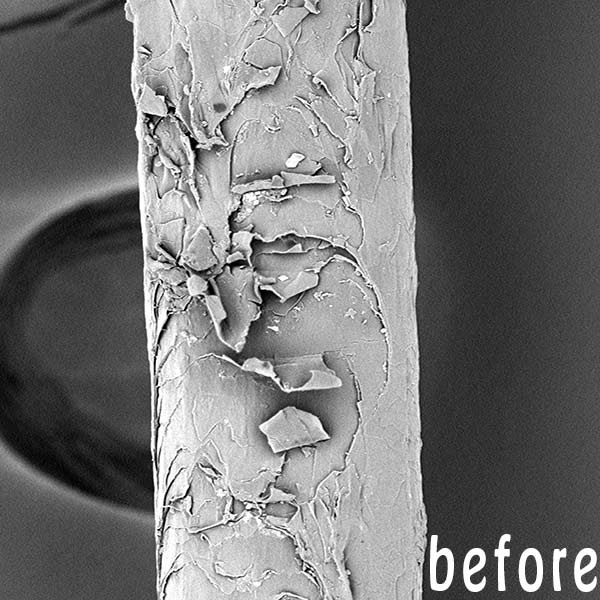 91% original strength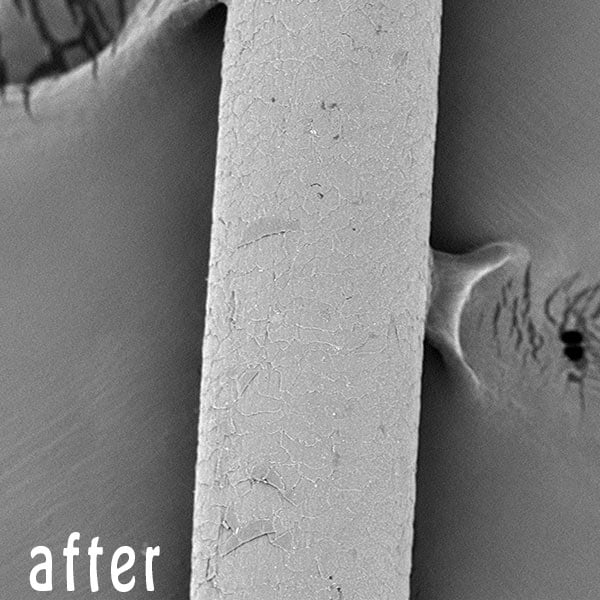 94% original elasticity
the more damaged the hair, the more dramatic the results.
Why is K18 so important right now?
Hair damage has always been increasingly concerning. With the sheer number of hair treatments on offer, hair damage has always been a harsh reality. Nothing dampens the excitement of a hair treatment like damage. The industry desperately needs a proven way of repairing all kinds of damage.
K18 has acted as an important emotional bridge between stylists and clients. When stylists introduce K18 to their clients, loyalty and connection soon follow. As clients see their hair being restored to almost-virgin state in just 4 minutes, even after experiencing massive damage, return visits are almost inevitable.
Clients no longer have ample time to spend in a salon. K18 is the way to massively boost speed and efficiency, providing clients beautiful, healthy hair in minutes.
In these uncertain financial times, K18 is a revenue generator. Build K18 into any service, and add extra profit for each service. And with take-home options, salons can build extra revenue.
Start off this journey with something that works on all hair types and hair goals, that will build trust, and will bring something joyful and positive into your clients' lives.
Use for any kind of hair damage
| | |
| --- | --- |
| Colour | Lightening |
| Perms | Relaxers |
| Thermal reconditioning | Keratin reconditioning |
| General treatments | Haircuts |
| Sun damage | Heat damage |
| Environmental aggressors | Brush damage |
---
how K18 affects the hair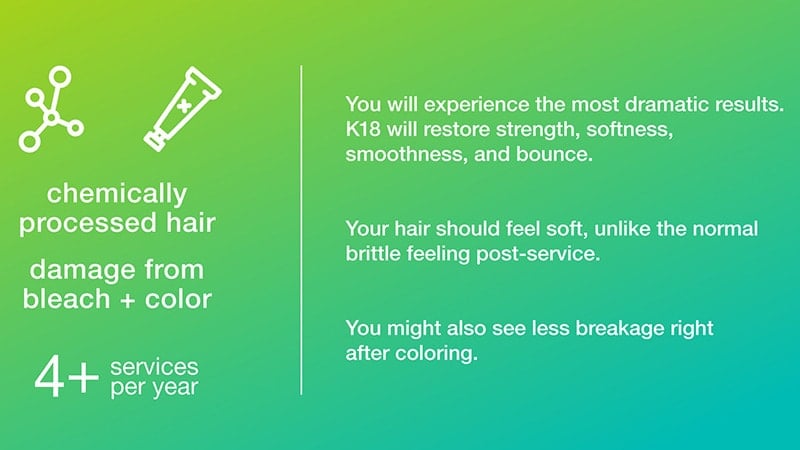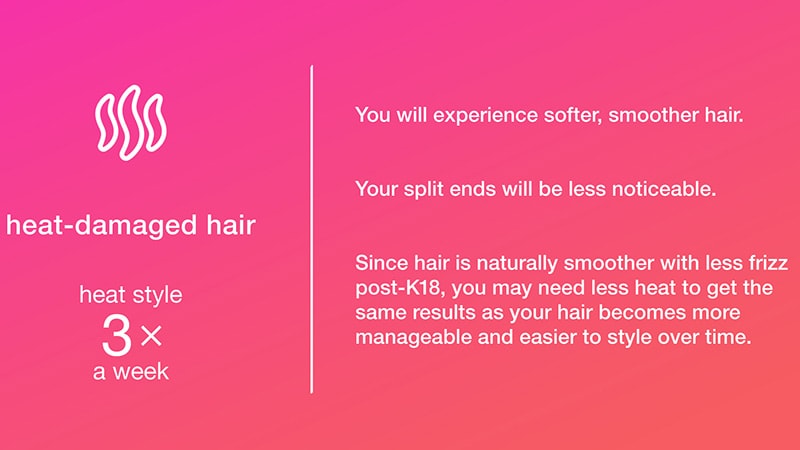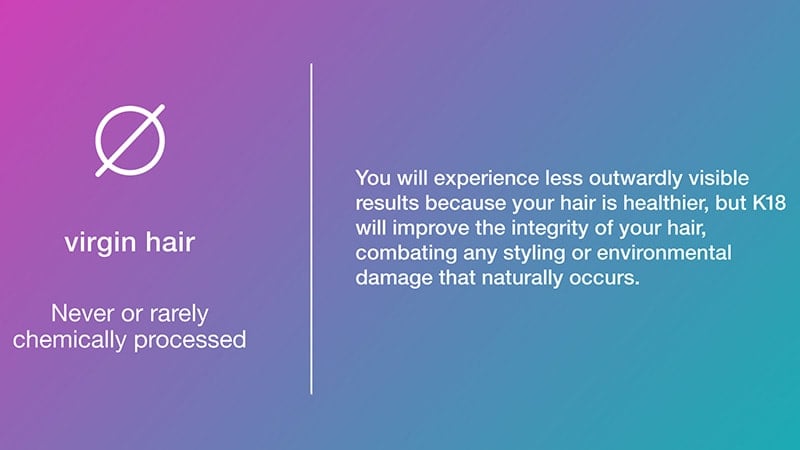 ---
how it works
K18 is a simple, patented, bioactive, 2 step treatment process, and can be incorporated in any possible salon treatment. It works on a molecular level to prepare, protect and repair hair during any in-salon service – reversing it to its most youthful, healthy state in minutes.
That means no more compromising. Now you can achieve any look, and do it in one appointment. K18 can be used immediately after any chemical service to repair damage caused by the service.
And the best part? You don't need to change a single thing about any service to make K18 work for your clients. No need to add K18 directly into chemical services, nor any need to change developer or processing time. All you need to do is add an extra 4-8 minutes to any treatment.
K18Peptide™ Molecular Repair Service
The 4-minute 2-step salon service to clinically reverse hair damage.
First begin with the mist before any treatment.
1. Before all professional and chemical services, mist hair with water (do not saturate).
2. Section hair, apply 2-6 sprays of K18 Mist per section. Work into hair.
3. Let sit for 4 minutes to activate. Do NOT rinse out.
4. Dry hair and process as usual.
5. Shampoo, do not condition.
6. Towel-dry thoroughly.
7. Continue treatment with K18 Mask.
Professional Molecular Repair Hair Mist
K18 Professional Mist is a pre-service treatment that strengthens hair before a chemical service. Shifts the cuticle layer to penetrate hair's inner cortex and hone in on damage sites.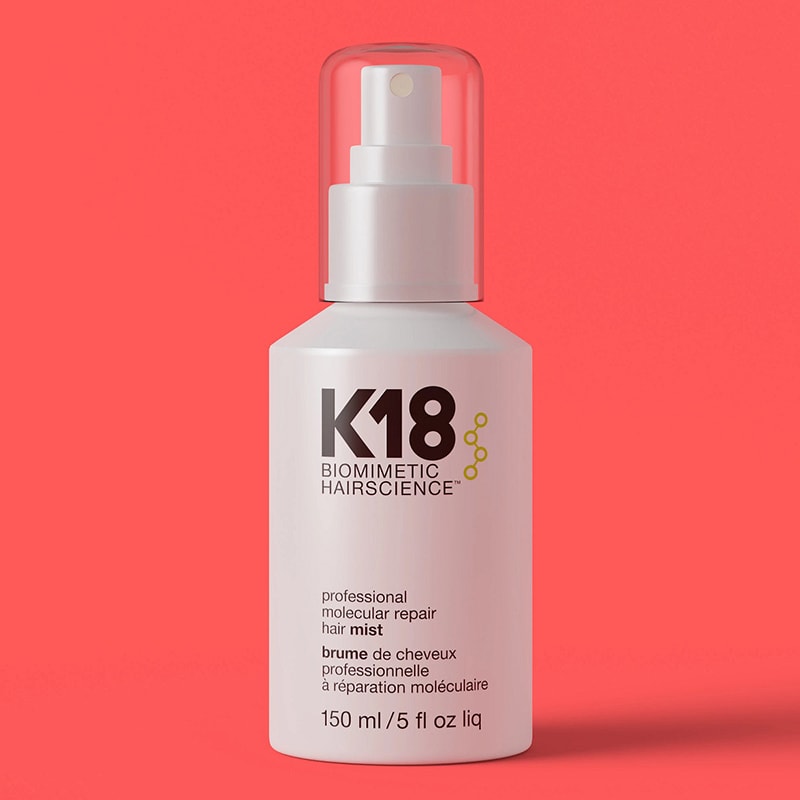 Finish with the mask to treat any damage caused by the treatment.
1. Shampoo, do not condition so the mask will penetrate hair more effectively.
2. Towel dry hair until damp.
3. Start with one pump and add more as needed, depending on length, thickness and condition.
4. Work evenly into hair, one pump at a time, starting from ends to roots.
5. Let sit for 4 minutes to activate. Do NOT rinse out
6. Style as usual.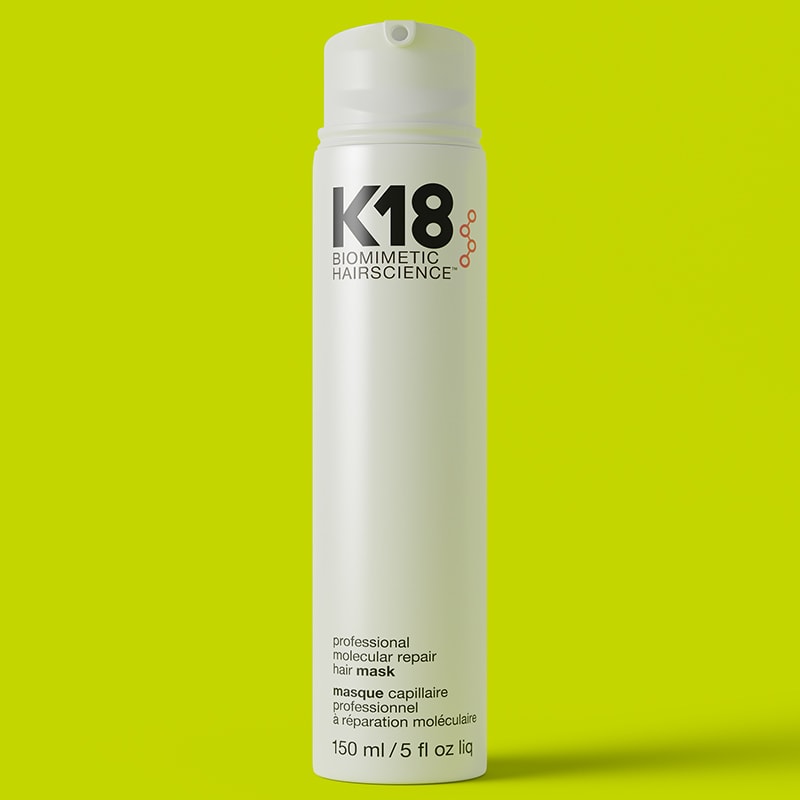 Professional Molecular Repair Hair Mask
K18 Professional Mask is a post-service treatment that repairs damage caused during any salon service. Helps close cuticles and seal in the peptide to repair broken keratin chains, with added lightweight conditioning benefits to keep hair smooth and soft.
The entire K18 regimen only adds an additional 4-8 minutes to any treatment.
After the 2 step mist and mask treatment, clients can also take an at-home leave-in mask to continue treating their hair between treatments or services.
Leave-In Molecular Repair Hair Mask
An at-home leave-in treatment infused with K18Peptide™ to repair even the most extreme damage, reversing hair to its most healthy state. Clients can use mask after any salon service, and continue using between services.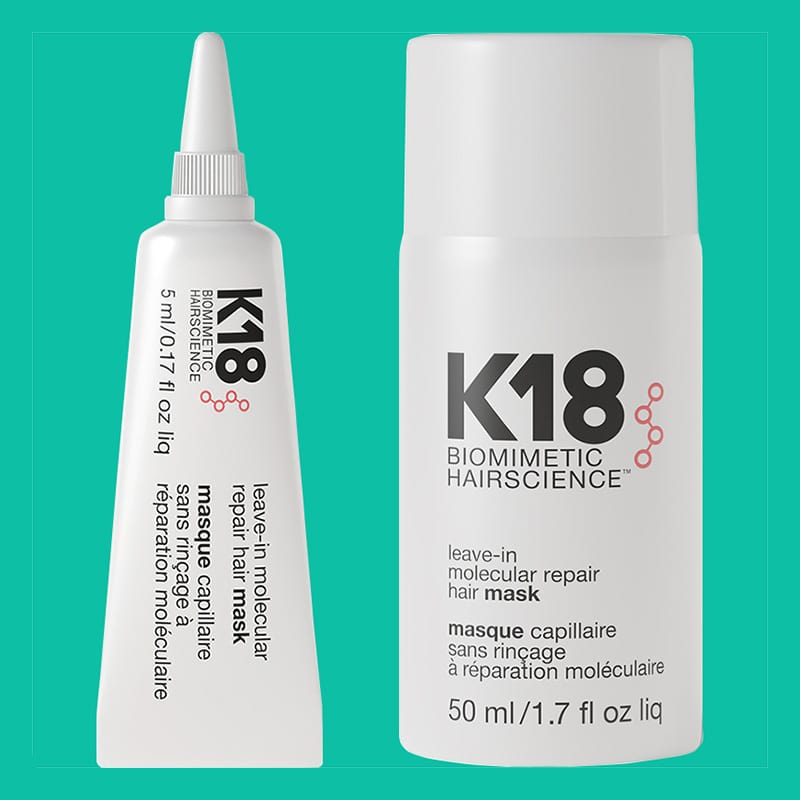 ---
---
The revolution is waiting…
---
See how K18 fits in with any salon hair treatment or service:
---
still unsure? See the professional FAQ below: